Family Photos
Monday, 27 June 2005
Back to the Photo Album main page
Back to the June 2005 page
Today, the offer on our new house was accepted! We will close on August 12th, but the current owner isn't going to move out until the 14th. We hope to have at least a week or two before we have to move out of our house (we don't have a contract/closing date yet), so we can paint, etc. As long as we're settled enough to bring a new baby home in September, we'll be fine!
| | |
| --- | --- |
| The front of the house from the street, looking right. You can see all the trees and nice landscaping. | The front of the house from the street, looking left. You can see the large window in the lower level that's above grade. On the back side of the house is a large sliding glass window that walks out to a concrete patio (deck above). |
| Front of house showing big trees and landscaping at garage and entry. | Again, more landscaping. Flag is attached to a deck that sticks out about 4' from the living room (those are sliding doors behind the sided deck). |
| The back yard, taken from the walk-out basement's patio - looking left. | The back yard, taken from the upper level's deck - looking left and toward the back corner. It's a very big yard with lots of nice trees. Maddie can't wait! |
| The only interior photos we have right now. We'll take more on Saturday when we go for the inspection. This is the living room portion of the living/dining room. It is open (with a railing) to the entry stair. The glass behind the couch is an 8' sliding glass door to the front deck. It's hard to tell in this photo, but the carpet is PINK. We hope to remove it (original hardwood below) before we move. | This is the half of the brand new kitchen that's facing the living/dining room (you can tell by the ceiling and the red wall of the dining/living room beyond). The entry at the right goes to the hallway/top of the stairs. Just off to the left of this photo are the sliding doors out to the deck. |
The Mapquest map below actually has the star for our new house in the wrong location. The street is correct, but the house is where the "th" is, of "67th" St. Gary and Shelly's house is about 1" down and 1/2" to the right, on the little line coming off to the left of Grand Ave. Phil and Laurie's house is about a 1/2" down from there, at about the "e" in "Valley" of "Valley View Dr." We're 4 houses in from Fairmount, on the north side of the street.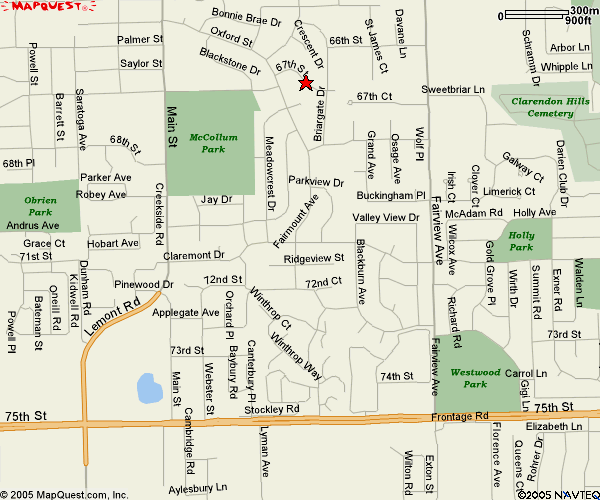 ---
| | | | | | | | |
| --- | --- | --- | --- | --- | --- | --- | --- |
| Home | Us | Photos | Music | Books | Movies | School | Email |